Helen Knowles
Artist & curator of the Birth Rites Collection
Helen Knowles (b.1975) is an artist and curator of the Birth Rites Collection based at Kings College, London. She has a BA Hons from Glasgow School of Art and MFA Fine Art from Goldsmiths University.
She lectures widely around the UK and abroad. Recent shows include; The Ministry of Justice and Consumer Affairs, Berlin, 'Artistic intelligence' Hannover Kunstverein (2019) 'Impakt Festival, 'Los Algorithmos Suaves', Centro del Carme, Valenica, Potsdam Film Museum (2018) 'Zero Recoil Damage',FolkestoneTriennial, 'OpenCodes', ZKM Karlsruhe, Germany, 'Codex' D21, Leipzig, The Trial of Superdebthunterbot, Zabludowicz Collection, London (2017) Gender Generation, Royal College of Art, Between the Lines, GRAD,London, Under Construction,Moscow (2016), Collaborate, Oriel Sycarth, (2015), PrivateView:PublicBirth, GV Art, London (2013), Goldsmiths Women's Library (2013), Life Is Beautiful, Galerie Deadfly, Berlin (2012); Digital Romantics, Dean Clough Gallery (2012) and Walls are Talking, Whitworth Art Gallery (2010).
Her work is held in private and public collections including The Whitworth Art Gallery, Gallery Oldham, Tate Library and Archive, The National Art Library, Joan Flasch Artist Book Collection, Museum of Motherhood, NY, Birth Rites Collection and MMU Special Collection. Residencies include; Trelex Residency, Switzerland (2019), Fault Lines, Future Everything (2017-2019), HMP Altcourse, Liverpool, (2017) Moscow ICA, (2015) Santa Fe Arts Institute, New Mexico (2013 Jodrell Bank Science Centre and Arboretum (1999-2001).
A recipient of awards from Arts Council England and The Amateurs Trust, in 2012 she won the Neo Art Prize, Great Art Prize for two works form the Youtube Portraits Series.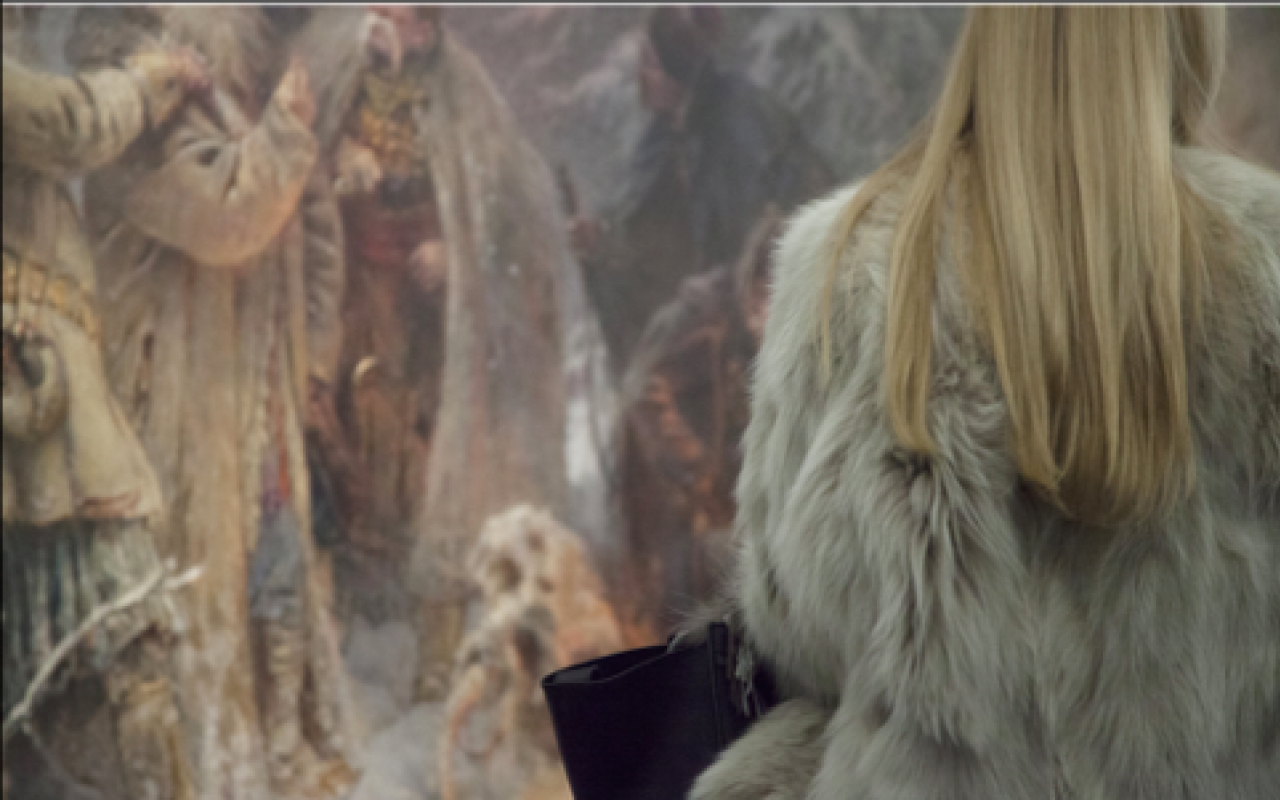 Trickle Down - a new vertical sovereignty.
Drawing on current power structures of the new vertical sovereignty of the digital era, which could be viewed as the scaffolds for the disparity between the wealthy elite and the everyday working person. »Trickle Down«, is a three-screen video work composed of auction scenes, auction performances, and choral interludes from different communities. Read full article